Activities
HOME > Activities
Enjoy the 50 ASEAN culinary experiences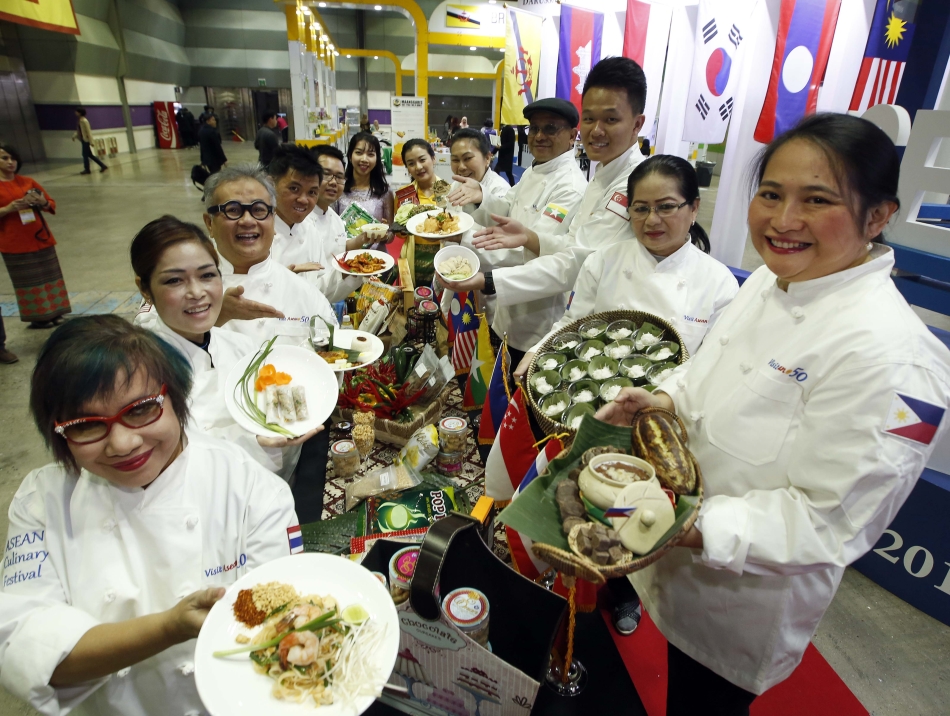 1. Background & Objectives:
As the year 2017 marks the celebration of the 50th anniversary of ASEAN (Visit ASEAN Year), and the ASEAN-ROK Cultural Exchange Year, it is timely to present ASEAN's culinary culture, while simultaneously promoting the region as a destination of rich cuisine. In an effort to facilitate a better understanding of the ASEAN cuisine and culinary tourism destinations among the public, the ASEAN-Korea Centre will organize the 'ASEAN Culinary Festival 2017' in conjunction with the 32nd Korea World Travel Fair (KOTFA) at COEX in Seoul on 1-4 June 2017. The Culinary Festival is anticipated to effectively promote signature ASEAN dishes.
The Festival will showcase various aspects of ASEAN culinary culture through food trails and dishes. Several varieties of coffee and tea from ASEAN will also be introduced to the general public. Furthermore, the Festival will engage the public in barista shows, ASEAN performances, and other enjoyable events.
2. Date & Venue: 1-4 June 2017, ASEAN Culinary Festival Zone, Hall B, COEX, Seoul
3. Main Activities:
- ASEAN Culinary Booths: Set up 10 culinary booths to showcase signature dishes

- ASEAN Food Trail: Each ASEAN Member State will choose one Must-Try Dish and list the top 3 restaurants in their country that are renowned for the selected dishes.

- ASEAN Café: Set up an ASEAN Café booth that offers visitors with samples and information on varieties of coffee and tea from ASEAN

- Mobile Application Download Event: At the Information Desk, ASEAN Travel Mobile Application download event will be arranged throughout the Festival

- Barista Show: Arrange a series of barista shows that will feature assorted ASEAN coffee and tea

- ASEAN Performance: Arrange a series of ASEAN performances that will introduce cultures and traditions of the ASEAN Member States

- Live Cooking Show for the Opening Ceremony: Set up a stage for cooking show where renowned chefs from ASEAN will demonstrate their signature dish
4. How to Participate: ASEAN Culinary Festival 2017 food coupons can be obtained at the entrance of the 32nd KOTFA (public engagement, pre-Festival SNS event)
5. Contact: Ms. Kim Su-youn (+82-2-2287-1135, sykim@aseankorea.org)