Activities
HOME > Activities
Activities
ASEAN Tourism Promotional Pavilion 2017-06-01 ~ 2017-06-04 |COEX, Seoul
Southeast Asia's 50 Golden Trails to be unveiled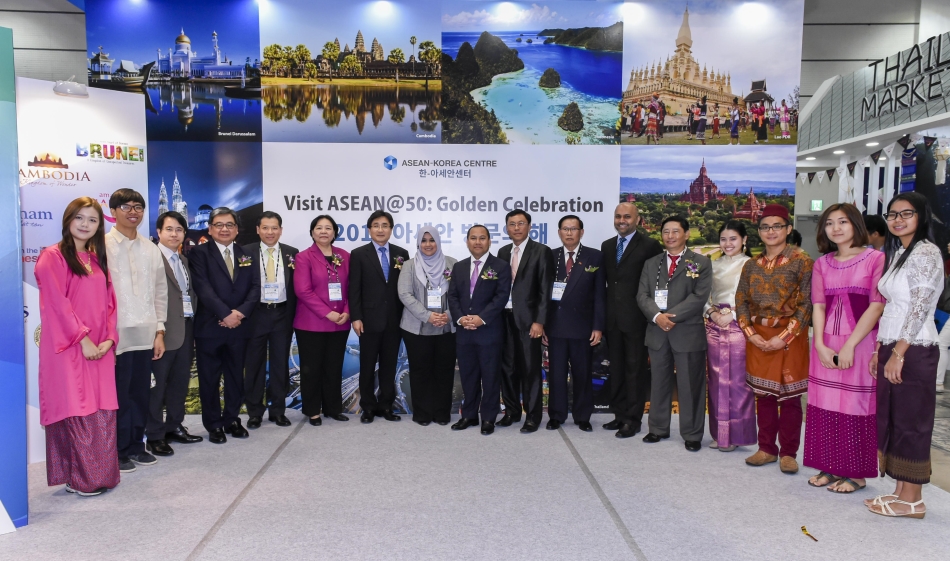 1. Background & Objectives:
Korean travelers bound for ASEAN destinations reached a record-breaking 5.8 million in 2015, accounting for 5% of tourist arrivals to ASEAN by country of origin. To keep up this momentum, the ASEAN-Korea Centre (AKC) will continue to participate in Korea World Travel Fair (KOTFA*) in 2017 and further promote ASEAN tourism in Korea.
* Annually held for 32 years now, KOTFA is one of the largest international travel fairs in Korea in which countries from all over the globe participate to promote their tourism resources and cultures.
At 2017 KOTFA, the AKC will set up the ASEAN Tourism Promotional Pavilion (The ASEAN Pavilion) to highlight ASEAN as a single tourism destination among the general public in Korea. To promote Visit ASEAN@50 campaign and celebrate 2017 as the ASEAN-ROK Cultural Exchange Year, this year's ASEAN Pavilion is anticipated to create a bigger impact through various promotional activities such as SNS Events and the Photo Wall.
2. Date & Venue: 1-4 June 2017, Hall A, COEX, Seoul
3. Main Programs
- Hold an official launching ceremony of '50 Golden Trails' and ASEAN Culinary Trails during the opening ceremony

- Organize the following promotional events:
· ASEAN Map Event

· SNS Upload Event at the Photo Wall

· ASEAN Travel Mobile Application Download Event
- Exhibit winning photos of the ASEAN-Korea Culture and Tourism Photo Contest (Hall B)

- Distribute promotional materials related to ASEAN culture and tourism
4. How to Participate: Register at http://www.kotfa.co.kr/?c=7/35/75&mod=write (Free)
*After the advance registration period, entrance fee will be charged: KRW 10,000 for adults and KRW 7,000 for students.
5. Contact: Ms. Kim Hye-bin (+82-2-2287-1136, hyebink@aseankorea.org)