Speech & Interview
HOME > Speech & Interview
Investment and Market Research Mission to Indonesia
17 January 2016, BKPM
Congratulatory Remarks by H.E. Kim Young-sun, Secretary General of ASEAN-Korea Centre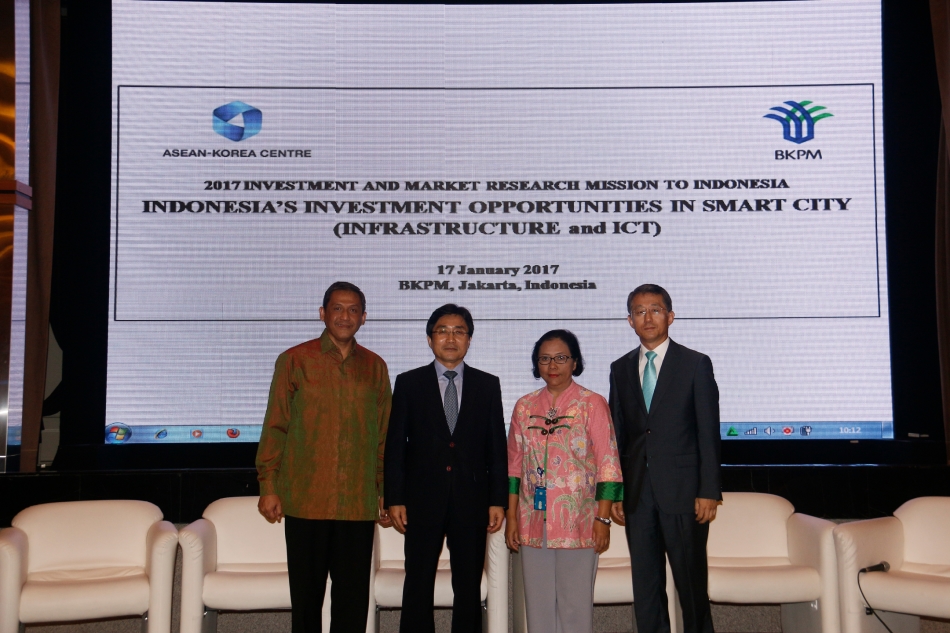 Mrs. Farah Ratnadewi Indriani, Deputy Chairperson for Investment Climate Development, BKPM,
H.E. Cho Tai-young, Ambassador of Korea to Indonesia,
Mr. Cecep Herawan, Minister and Deputy Chief of Mission of Indonesian Embassy in Seoul,
Distinguished participants, ladies and gentlemen,
Selamat pagi! Selamat tahun baru!
It's wonderful to be back in my second home, Indonesia! Some of you might already know that I served as Ambassador of the Republic of Korea to Indonesia from 2011 to 2014. I always miss the pleasant time that I had here, and especially my good Indonesian friends.
Before I go on, I would like to warmly welcome all of you to the "Seminar for Investment Promotion on Smart City," organized by the ASEAN-Korea Centre together with the Indonesia Investment Coordinating Board, BKPM (Badan Kordinasi Penanaman Modal). And, I would like to express my deepest appreciation to Mrs. Farah Ratnadewi Indriani, Deputy Chairperson for Investment Climate Development, BKPM and her staff for their most active cooperation. I also thank Minister Cecep and Mr. Imam, Director of BKPM office in Seoul, for coming a long way to support this event.
While I serving as Ambassador to Indonesia, I studied and explored this country inside and out. I would have to say that there are only a few places that I have not been to. I built friendship with many people from all sorts of backgrounds, and from this experience, I can only say that Indonesia is a great country with infinite opportunities.
This time, I have come to Indonesia with a total of 10 Korean companies specialized in Infrastructure and ICT, seeking for investment and business opportunities in the smart city development in Indonesia. Yesterday, we visited the Bandung Provincial Government and we were briefed on Bandung's smart city projects. We also visited one of the most well-known industrial estates in Indonesia, Jababeka (TBD). From the meetings and site visits, we were able to see the great opportunities for cooperation in the Indonesian smart city projects.
Ladies and Gentlemen,
According to the World Bank, it is expected that in Indonesia, the population in cities will peak to 57 percent of Indonesia's whole population in 2025. The growth of cities of course contributes to economic growth, but it will also create lots of challenges such as traffic congestion, pollution, housing issues, and other urban issues. Therefore, it is urgent that we exchange know-how and experience on developing sustainable cities, with smart infrastructure and digital innovation.
We are gathered here today at this Seminar with an aim to further encourage Korean investment in Indonesia's smart city industry. We are here to share experience and good practices to further develop smart cities in Indonesia.
The ASEAN-Korea Centre holds these Seminars for each ASEAN Member State all year round, and every time, I emphasize that they should not end as a one-time event or ceremony, but it must deliver concrete outcomes. Today, BKPM has made a lot of preparations to deliver Indonesia's Smart City Policies and Investment Incentives as well as information on ICT related infrastructure. The Korean experts will share the history of Korea's smart city development, along with success stories of a Korean company that has successfully invested in this sector in Indonesia. In the afternoon, we will have the BKPM give further presentations on the Provincial Government's smart city projects. In one-on-one business meetings, I hope there will be more in-depth discussions on practical smart city projects where participants will maximize their opportunities for future investments.
Ladies and Gentlemen,
For the effective development of smart cities, cooperation and partnership is most important. Here, I want to emphasize two types of partnership. First is the partnership between Korea and Indonesia. The two countries are faced with the same challenges of urban growth, and the goal of 'sustainable development'. Second is the partnership between the public and private sectors. While the government should provide directions and policies as well as support for foreign investment, the private sector's innovative solutions are necessary to bring concrete results.
In closing, I would like to thank you once again for your presence, and I sincerely hope that today's Seminar will further consolidate our partnership by deepening our understanding on Indonesia's investment policies and business opportunities. I also hope that this Seminar provides a platform for valuable network-building among the Korean delegation, the Indonesian government officials, and the Indonesian business community.
I wish you my very best luck, and thank you very much.
Terima kasih!