Activities
HOME > Activities
Activities
Launching Ceremony of the ASEAN Month 2017-05-11 |ASEAN-Korea Centre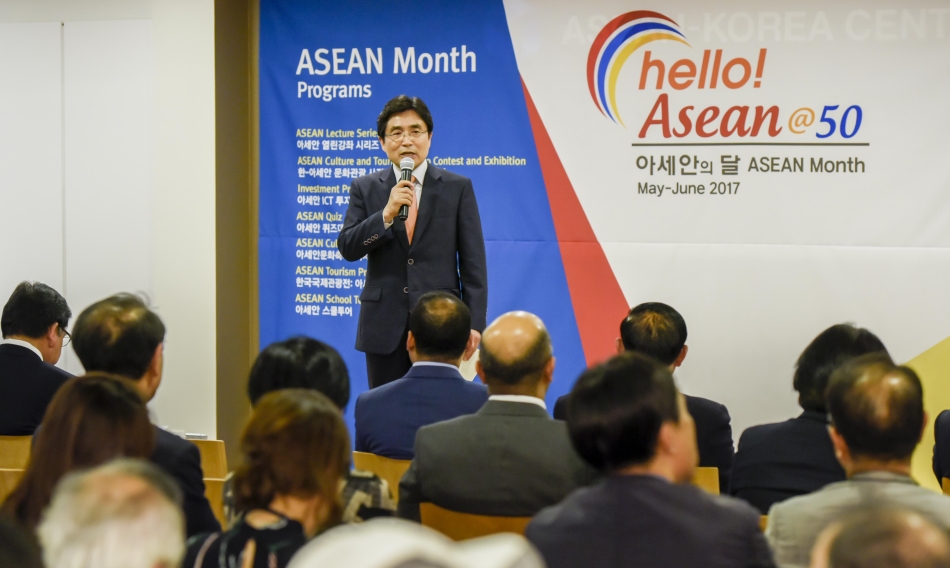 ▲ Welcoming remarks by Kim Young-sun, Secretary General of the ASEAN-Korea Centre | ASEAN-Korea Centre
ASEAN-Korea Centre held the Launching Ceremony of the ASEAN Month, under the slogan of 'Hello ASEAN@50' on 11 May 2017 at the ASEAN Hall. The ASEAN-Korea Centre designated May and June as the ASEAN Month in celebration of the 50th Anniversary of ASEAN and ASEAN-ROK Cultural Exchange Year. During this period, a series of culture and awareness programs will be held: ASEAN Culinary Festival, ASEAN Tourism Promotional Pavilion, ASEAN Culture and Tourism Photo Exhibition, ASEAN Lecture Series, ASEAN-Korea Investment Promotion Seminar on ICT, ASEAN Quiz, and ASEAN School Tour Program.
Ambassadors and diplomats from the 10 ASEAN Embassies in Korea were invited for the ceremony, including H.E. Dato Paduka Haji Mohd Rosli HAJI SABTU, Ambassador of Brunei Darussalam, H.E. LONG Dimanche, Ambassador of Cambodia, H.E. Khamsouay KEODALAVONG, Ambassador of Lao PDR, H.E. Thura U Thet Oo Maung, Ambassador of Myanmar, H.E. YIP Wei Kiat, Ambassador of Singapore, H.E. Sarun CHAROENSUWAN, Ambassador of Thailand, H.E. Nguyen Vu Tu, Ambassador of Vietnam, Mr. Cecep Herawan, Charge d'Affaires of Embassy of Indonesia, and Fairuz Adli Mohd Rozali, Councilor of the Embassy of Malaysia. Also, around 100 people participated for the ceremony such as high ranking officials from the related organizations, academic and media personnel, and the general public.
Commenced with the welcoming remarks by H.E. Kim Young-sun, the Secretary General of the ASEAN-Korea Centre, and the congratulatory remarks by H.E. Dato Paduka Haji Mohd Rosli HAJI SABTU, the Ambassador of Brunei Darussalam, the ceremony was followed by 'ASEAN Month' video showing, as well as panel discussion on ASEAN and ASEAN-Korea relations, and ASEAN traditional performances.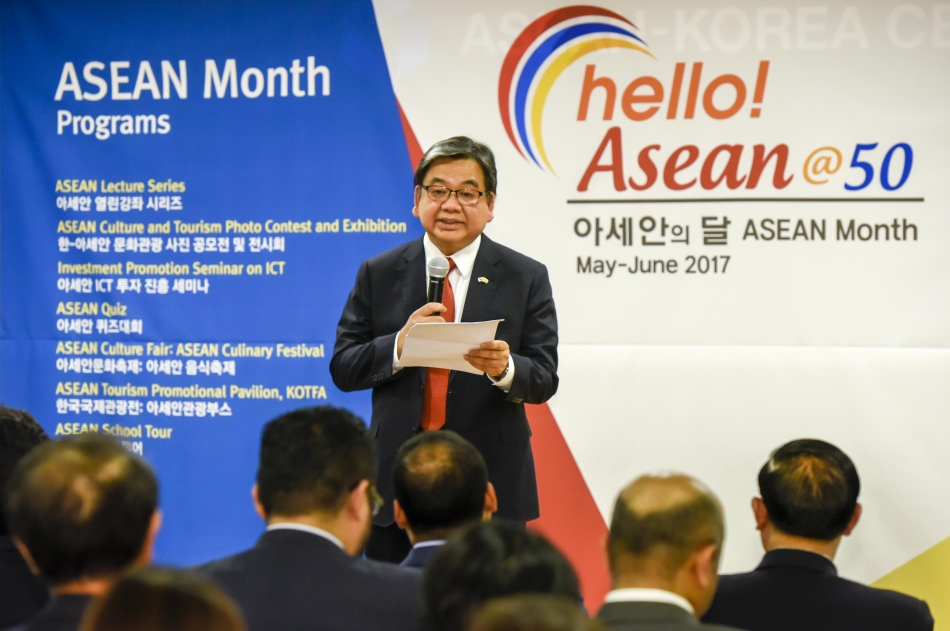 ▲ Congratulatory remarks by H.E. Dato Paduka Haji Mohd Rosli HAJI SABTU, the Ambassador of Brunei Darussalam | ASEAN-Korea Centre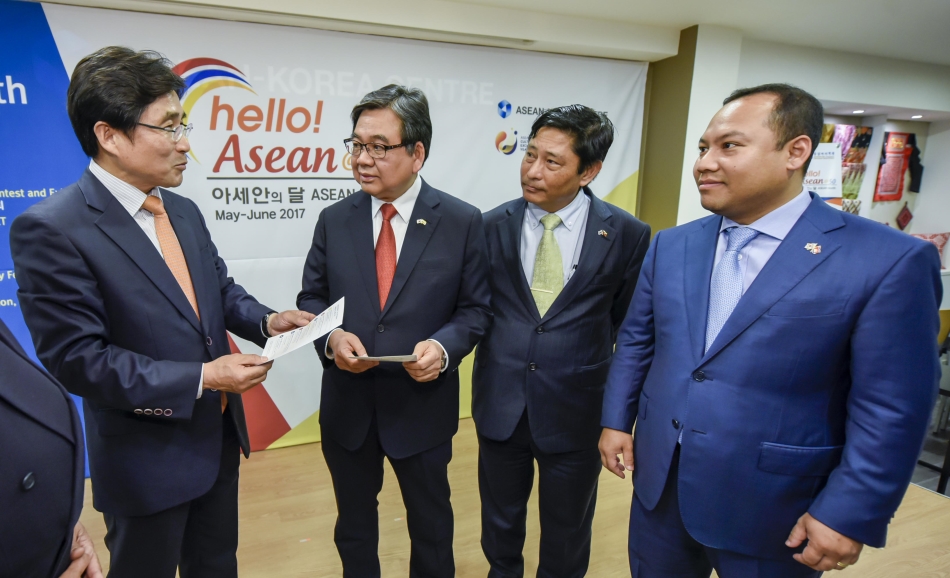 ▲ Kim Young-sun, Secretary General of the ASEAN-Korea Centre, is introducing the 'ASEAN Month' to the Ambassadors of ASEAN Member States | ASEAN-Korea Centre

▲ Panel discussion on ASEAN and ASEAN-Korea relations | ASEAN-Korea Centre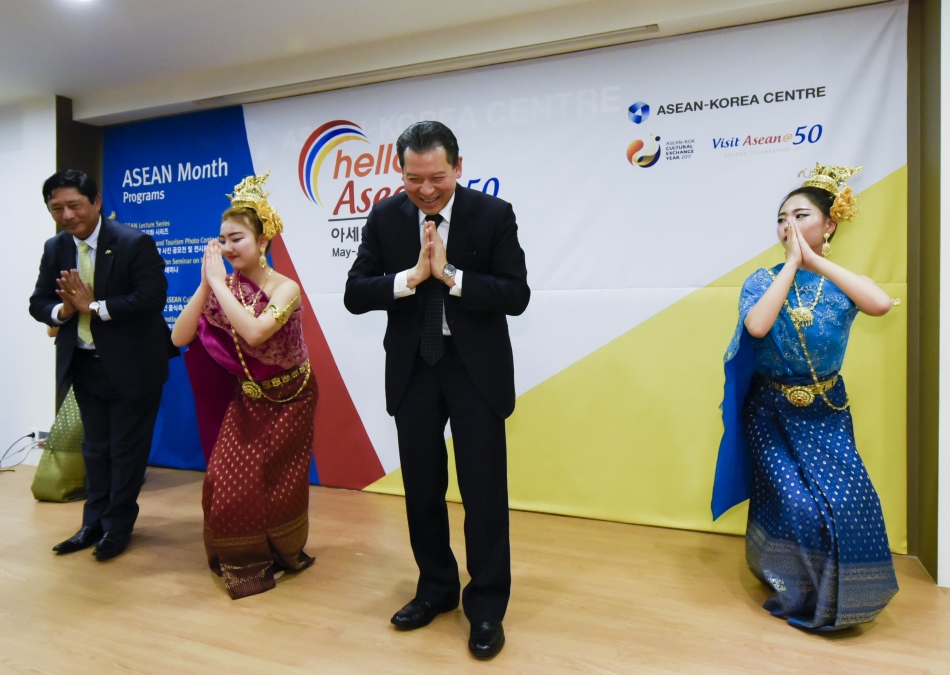 ▲ H.E. Thura U Thet Oo Maung, Ambassador of Myanmar (1st from the left), and H.E. Sarun CHAROENSUWAN, Ambassador of Thailand (2nd from the right), are dancing together with the Thai traditional dance performers from the Busan University of Foreign Studies | ASEAN-Korea Centre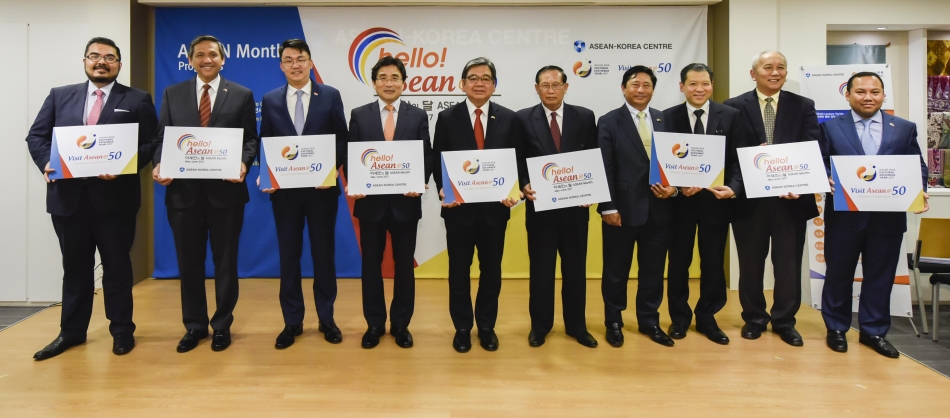 ▲ Group photo | ASEAN-Korea Centre
---
Related
[The Korea Herald] Merry-go-round festivities of ASEAN cultures (more)
[Korea Times] Korea, ASEAN celebrate cultural ties (more)
[Korea Joongang Daily] Celebrating cultural exchange (more)
[문화일보] 아세안 10개국 대사들 "한국과 더 가까워졌으면…" (more)
[연합뉴스] 아세안의 달 기념하며 한자리에 모인 아세안 대사들 (more)
[연합뉴스] 아세안의 달 기념행사, 환영사하는 김영선 (more)
[연합뉴스] 환영사 하는 김영선 사무총장 (more)
[연합뉴스] 환영사 하는 김영선 사무총장 (more)
[연합뉴스] 환영사 하는 김영선 사무총장 (more)
[연합뉴스] 아세안의 달 기념행사, 축사하는 브루나이 대사 (more)
[연합뉴스] 아세안의 달 기념행사, 축사하는 브루나이 대사 (more)
[연합뉴스] 아세안의 달 기념행사, 축사하는 브루나이 대사 (more)
[연합뉴스] 서울, 아세안의 매력에 빠진다…5∼6월 곳곳서 풍성한 행사 (more)