Activities
HOME > Activities
Activities
17th ASEAN Lecture Series 2017-05-11 ~ 2017-06-22 |ASEAN-Korea Centre
A Journey into Southeast Asain Culture through the World Cultural Heritage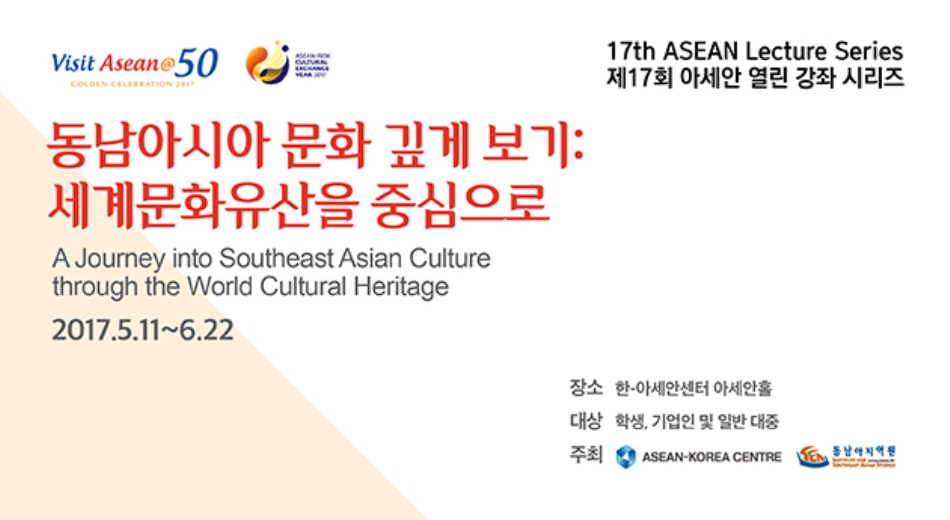 1. Objectives:
- Raise the awareness among the general public of ASEAN, in commemoration of the 2017 ASEAN-ROK Cultural Exchange Year and the 50th Anniversary of ASEAN

- Spotlight the World Cultural Heritage sites and other historical locations in ASEAN

- Promote ASEAN as an attractive tourist destination by featuring the cultural and historical sites
2. Date and Venue: 11 May-22 June 2017 (7 sessions, every Thursday), 18:30-20:00
*The 1st Lecture will be held at 18:00-19:50 on 11 May, as it will be held in conjunction with the launching ceremony of the 'ASEAN Month.'
3. Venue: ASEAN Hall, ASEAN-Korea Centre, Seoul
4. Main activities
- Conduct lectures on historical heritage sites and business opportunities in ASEAN

Note: The Centre will publish booklets on the lecture contents after the Program.
5. How to participate: Apply via ASEAN-Korea Centre website (www.aseankorea.org)
6 Contact: Ms. Lee Su-ji (+82-2-2287-1146, sujilee@aseankorea.org)