Activities
HOME > Activities
Activities
Investment Promotion Seminar on ICT 2017-05-24 ~ 2017-05-27 |COEX, Seoul
Embracing the 4th Industrial Revolution, preparing for the future with ASEAN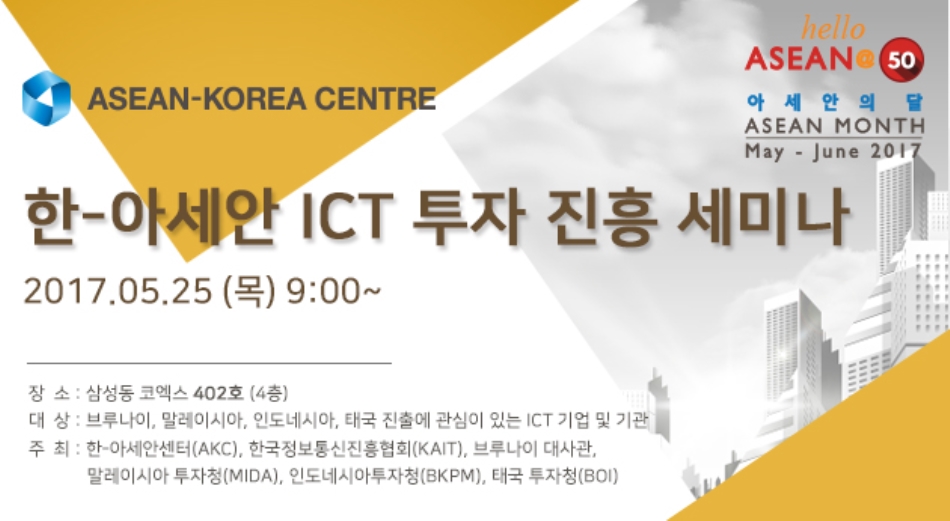 1. Background & Objectives:
As key partners of economic cooperation, ASEAN and Korea have maintained a mutually beneficial partnership in the area of trade and investment. With the launching of ASEAN Economic Community, the investment environment of ASEAN is becoming increasingly attractive for Korean investors, encouraging not only MNEs but also MSMEs to expand their business in the region.
The ASEAN-Korea Centre (AKC), with the vision to be a key player in building a lasting and genuine partnership between ASEAN and Korea, and to support the ASEAN Economic Community building efforts, is implementing various programs to enhance economic cooperation between the two sides particularly in knowledge-intensive sectors such as Information and Communication Technology (ICT).
To support ASEAN's efforts toward an integrated community through advanced technology, the AKC is organizing the Investment Promotion Seminar on ICT to promote investment and economic cooperation through a trilateral partnership among the ASEAN Member States (AMS), the AKC, and Korea Association for Information and Telecommunication (KAIT), an association mandated to promote ICT development.
2. Date and Venue: 24-27 May 2017, COEX, Seoul
※ Participanting countries: Brunei, Indonesia, Malaysia, Thailand(4 countries, 8 persons from the private sector, 3 persons from the government agency)
※ In partnership with:: Korea Association of Information and Telecommunication (KAIT)
3. Main Activities:
- Investment Promotion Seminar on ICT
a) Presentation by representatives from the public and private sectors in ASEAN on the recent national investment policies and strategies of ICT, and specific investment projects

b) One-on-one (match-made) business meetings among B2B and B2G

c) Industrial Visits: Visit to industrial zones, companies and public organizations related to ICT (Introduction of the organization + Presentation on the potential investment projects)

d) Exhibition: Set booths for each country (Brunei, Indonesia, Malaysia, and Thailand) to promote on their ICT business environment and opportunities
4. Contact: Ms. Kim Su-jung (+82-2-2287-1192, sjkim@aseankorea.org)